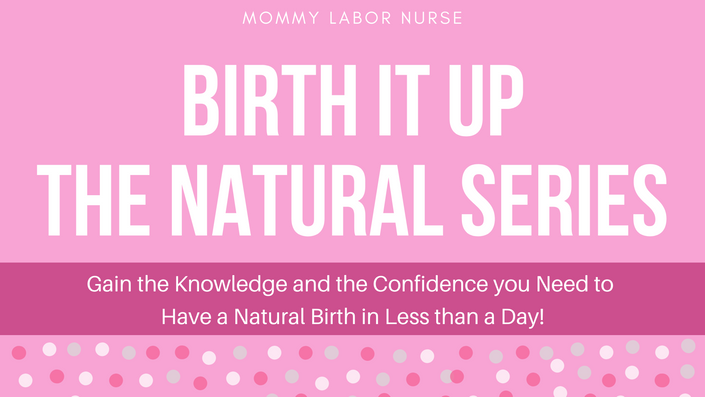 Birth It Up!
Gain the Knowledge and the Confidence you Need to Have a Natural Birth in Less than a Day!
Enroll in Course
Are you looking for affordable birth education, and you REALLY want to go natural?
You are in the right place!
Hi, I'm Liesel!
I'm a labor and delivery nurse and mama to a sweet little boy! I had an empowering, beautiful, NOT SCARY natural birth with my son, and I want to teach you how YOU can rock your upcoming birth in less than a day!
I've helped care for hundreds (maybe thousands) of laboring women, I'd love to help YOU!!
Watch this 3 minute video to learn how you can discover everything you need to know about ROCKING your natural birth!
30+ Lessons with Teaching Videos!
I will hold your hand through this entire series. This isn't the kind of course where I leave you a book to read. I'm going to be talking to you throughout this whole course, and explaining EXACTLY what you need to know about successfully delivering naturally.
From how your body preps for labor, to what to do if you JUST CAN'T STAND IT ANYMORE, we are going to go over all of it.
You'll Also Gain Access To:
1. My Ultimate Guide to Labor and Delivery
(If you haven't already snagged it!)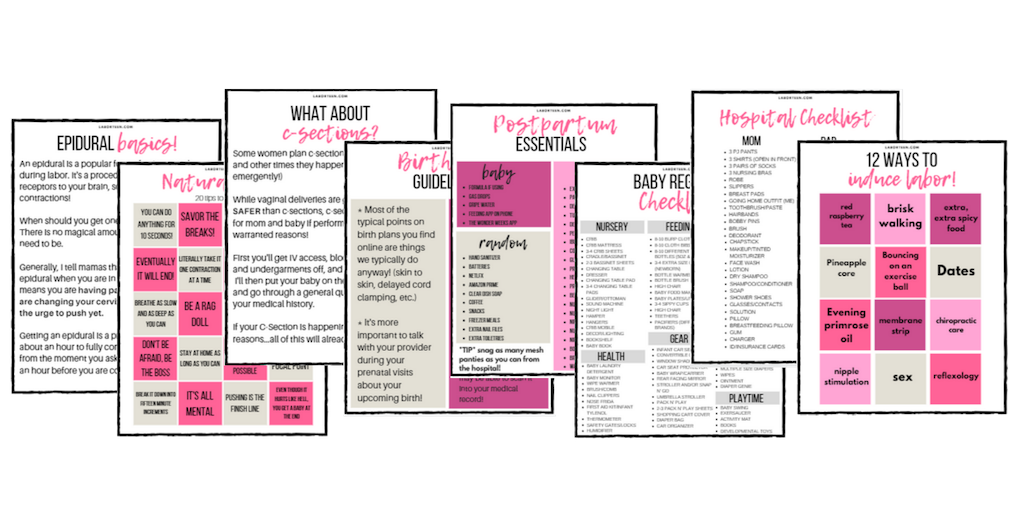 2. An Entire 74-page PDF e-book of this course!
(If you're more of a reader!)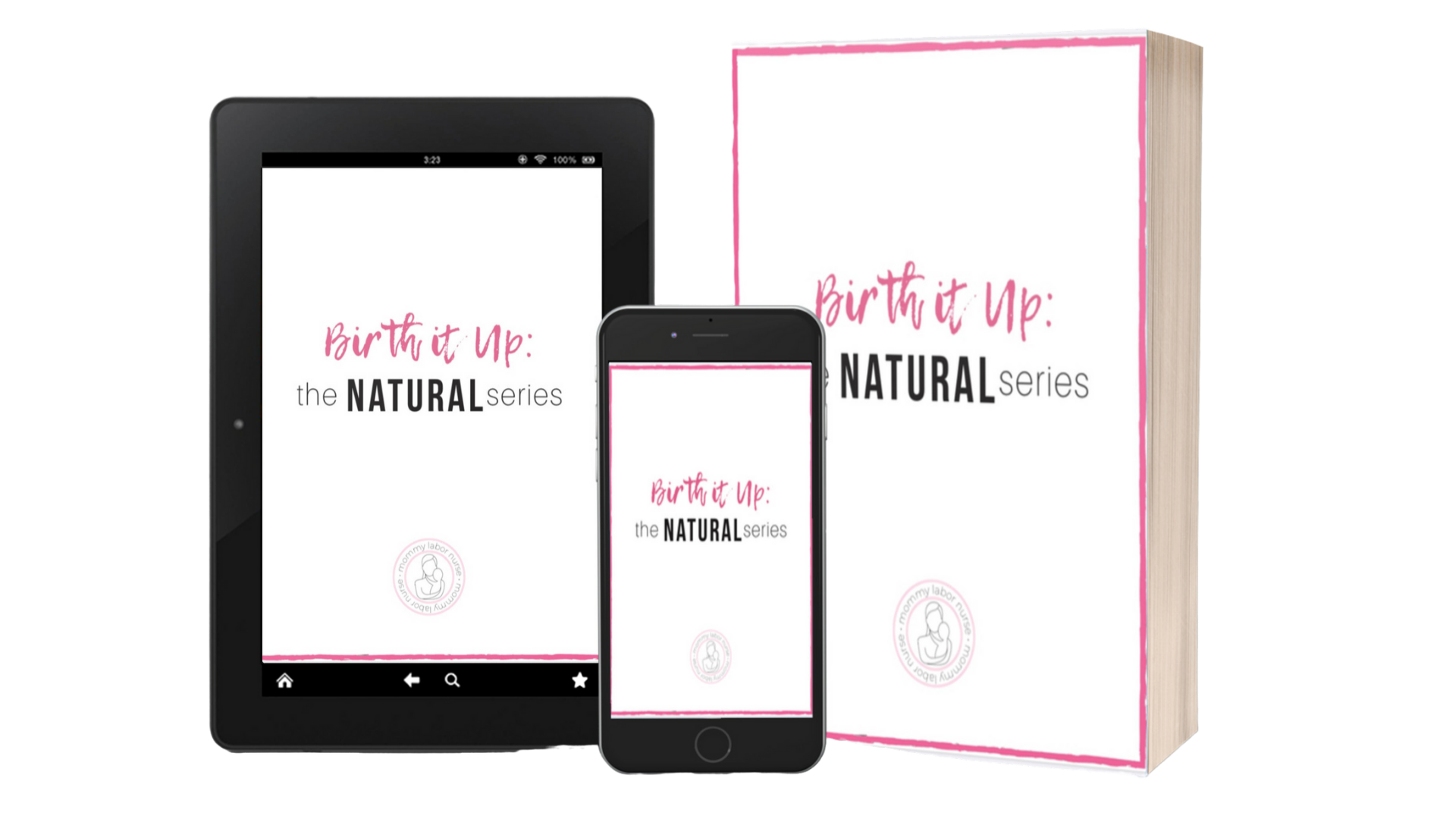 3. Access to Our Private Facebook Group, where you can read other mom's birth stories!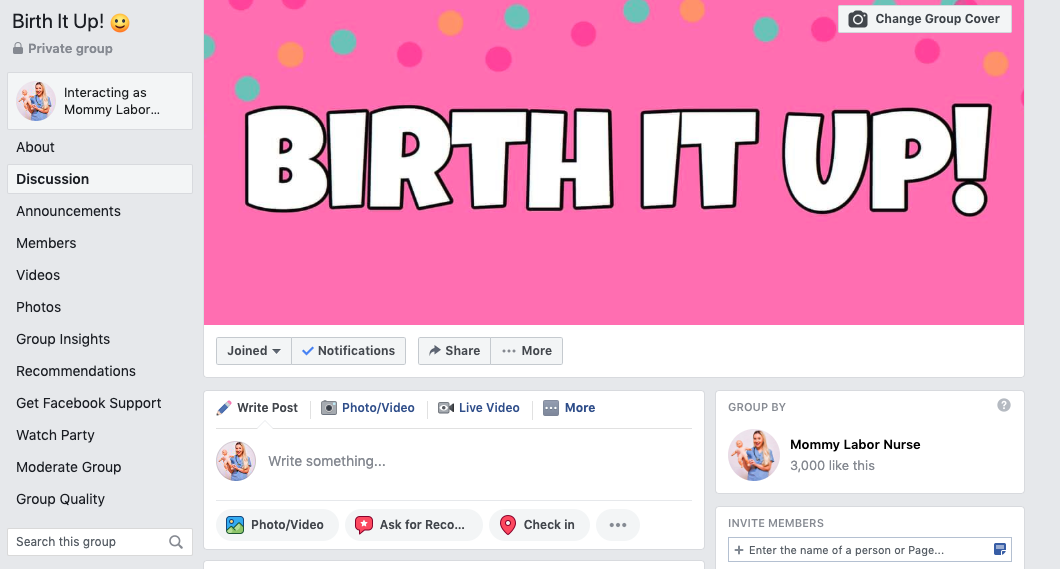 Who Is This Course For?
Birth It Up is for expecting mamas who desire a natural birth (aka, without an epidural), but are nervous about what's to come.
Maybe you are a first-time mom, and you just don't know what labor's going to be like, but want to be prepared!

Maybe you had an epidural with your first, but you TOTALLY wanna go without one this time.


Maybe you've had a C-section, and you SO desire to have a natural vaginal delivery.
I CAN HELP YOU!
What Will You Accomplish During This Course?
First, I'm going to educate you about the birth process and what to expect when you go into labor. Next, I'm going to teach you how to get through it, and FINALLY I'm going to get you super PUMPED for it to happen!
This is all going to happen in a few hours, if you binge watch this course it can be done in one day!
I PROMISE I will diminish some of those fears that you have circling in your brain about birth.
I want them all to go away!
SOME OF THE MAMAS FROM THIS COURSE! :)
👇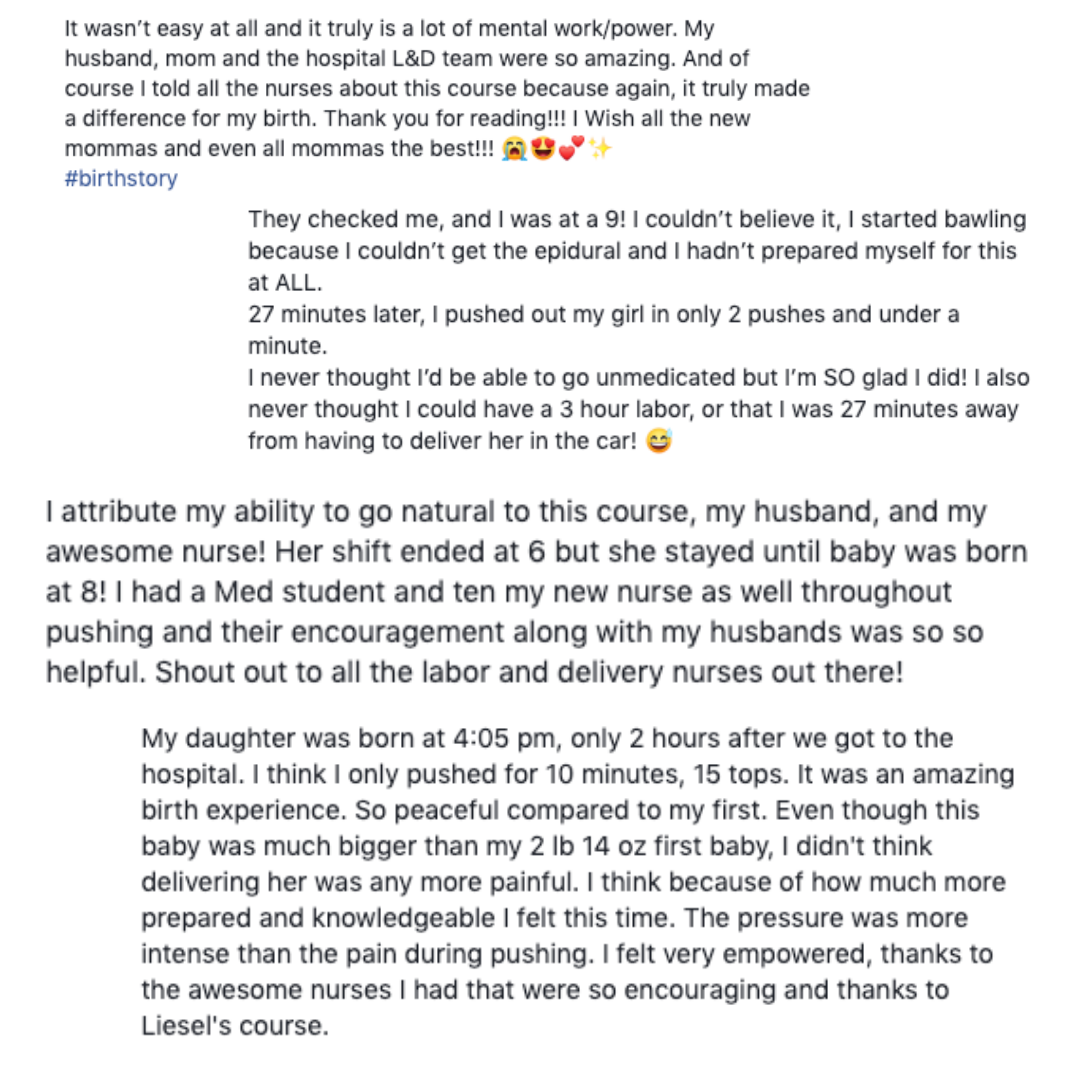 Why Should I Take an Online Birth Class?
Great Question!
Well, first of all, educating yourself about the birth process is SO important to having a successful natural delivery.
I have plenty of mamas come in who want to go natural. When I ask them if they've taken a birth class, many say no. Almost ALL of those women wind up getting epidurals...because they were just not mentally prepared for labor.
You see, one of the MOST important things about successfully delivering naturally is educating yourself about it. It's SUPER hard to just wing it, especially if it's your first time.
And....
We are all busy, right? The last thing I want to do is go to an in-class 2 day workshop on my weekend off to learn about birth.
The best advantage to an online class is that you can access it on YOUR time...from your phone (or any other device).
You can cruise through it whenever you'd like. You don't have to worry about forgetting what you've learned from your weekend class, because you can ALWAYS access this! You can pull up any of my lessons, anytime, even if you're IN labor!
You can take this class early in your pregnancy, and then get a quick refresher right before labor!
I LOVE reading your birth stories! Here are some of the positive stories from the group! (There are tons more!)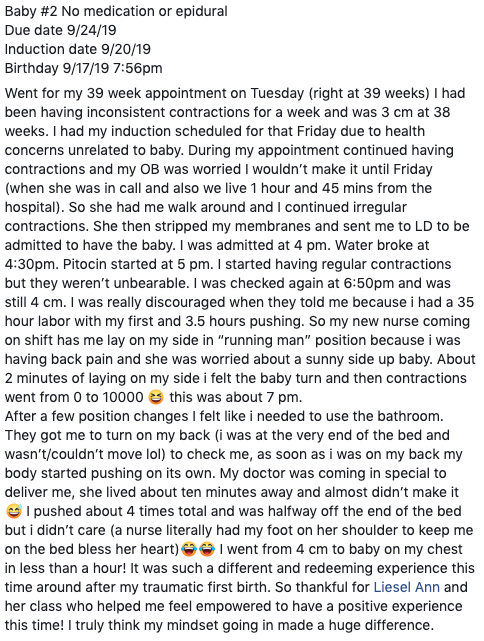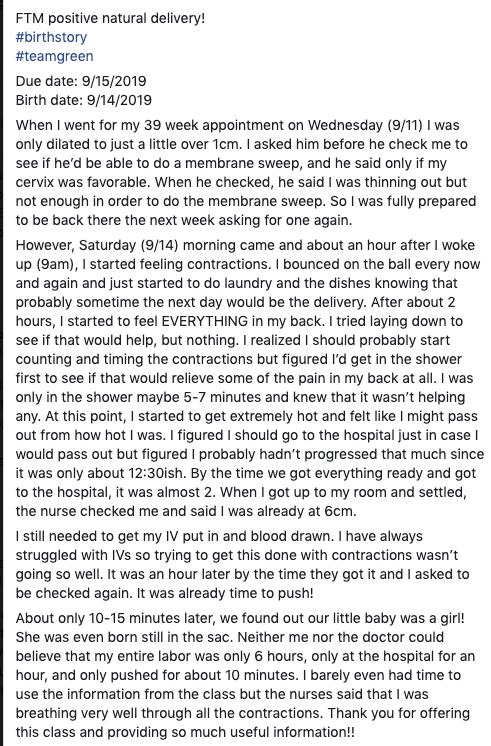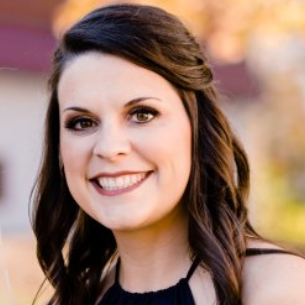 "As a labor and delivery nurse and mama-to-be, let me just say Birth It Up: The Natural Series is amazing!!
Not only has it given me the information needed to approach my labor with strength and confidence, but I've also found it extremely helpful in laboring the patients that I care for on a daily basis.
I would encourage any mom-to-be to take this course, whether you plan on going natural or not!
The education Liesel shares is extremely useful for all labor and delivery experiences, and I believe all women will approach labor with more assurance after finishing up this series!"
- Tiffany, Expecting Mom and L&D Nurse!
Does This Course Take The Place of A Typical "Prenatal Class"?
YEP!
It's heavily targeted toward mamas who want to go natural, BUT I still teach about epidurals and pharmaceutical methods of pain control in a very positive way.
I am in no way shape or form anti-epidural (or anti c-section-we totally go over those too). I want to provide you positive education about what an epidural entails, because if you DO wind up getting one I want you to be informed about what they are and how the procedure goes.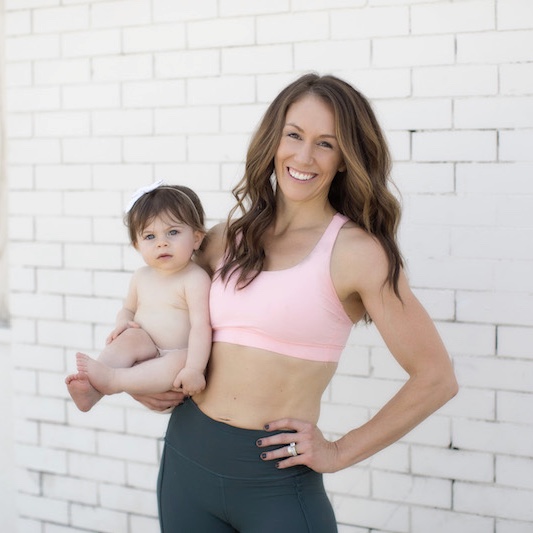 "I am currently 34 weeks pregnant with our third baby, and I only wish this course was available during my last two pregnancies!! My last epidural experience was not very good, so I really wanted a natural birth this time. However, I knew I needed to be more mentally prepared.
As a prenatal and postnatal exercise specialist, I have always focused more on the physical preparation of labor and delivery. But trust me, the mental preparation for labor is extremely important!
Prior to taking this course, I was extremely nervous to try another natural birth.
Birth It Up has given me the confidence, tips and tools to enter this labor much more mentally prepared than both of my previous labors. I cannot recommend it enough!!!
Liesel is not only extremely knowledgeable, but she is also so motivating and supportive!
Whether this is your first pregnancy or not, I HIGHLY recommend taking this course to help you prepare for the big day!"
- Brooke, Expecting Mom and Prental/Postnatal Specialist
Not Quite Sure?
Here's a Little Sneak Peak Of One Of My Welcome Video!
Why Is This Course So Much Cheaper Than All The Other Online Birth Courses Out There?
Because I care about you getting this information, not my paycheck. I want to help as many women as I can, with the knowledge that I've learned as an L&D nurse!
Birth classes should be much less expensive than they are, because EVERYONE needs this information, not just the people who can afford expensive classes.
I never want anyone to leave this page wishing they could afford natural birth education.
I REALLY want you to get this information, because I TRULY want you to have a better birth experience!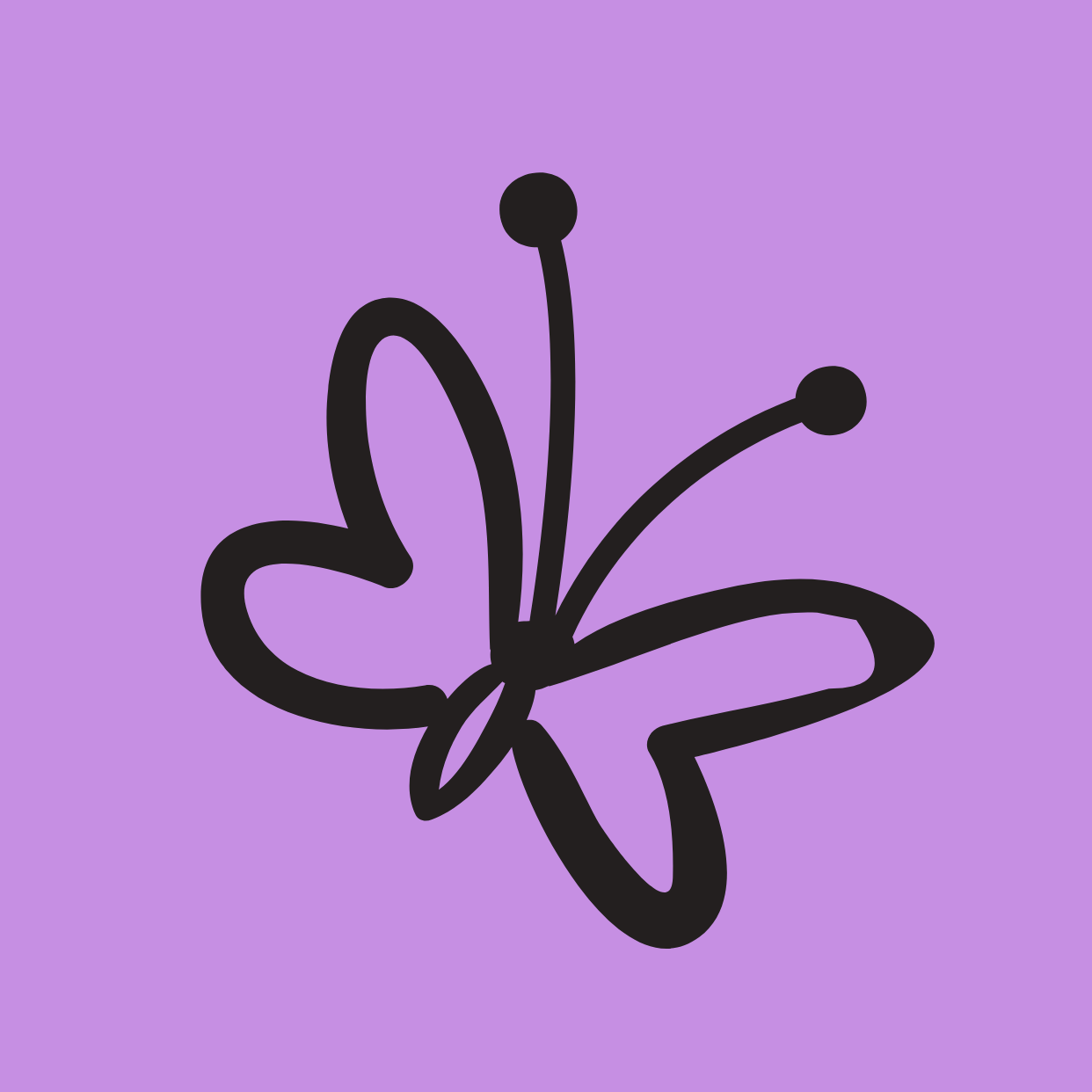 "Birth It Up has amazing information!
Liesel does such a wonderful job at giving all the necessary info, not just on natural birth, but about other options so you know what to expect if it doesn't go as planned.
I'll be going into birth feeling educated and confident!
Going natural wasn't even on my radar at first, but I feel ready for it after all that I learned in Birth It Up!
I'm excited, and the fear is gone!"
- Michelle, First-time Mom!
I WANT TO HELP YOU HAVE THIS KIND OF BIRTH
👇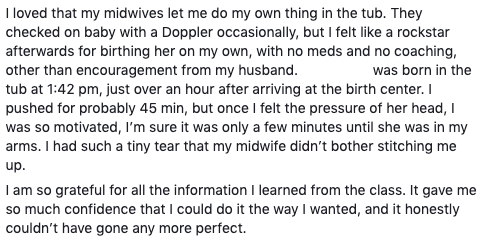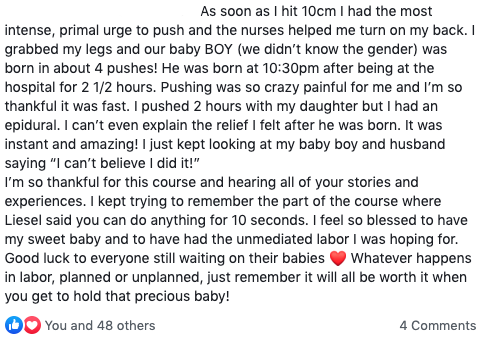 Your Instructor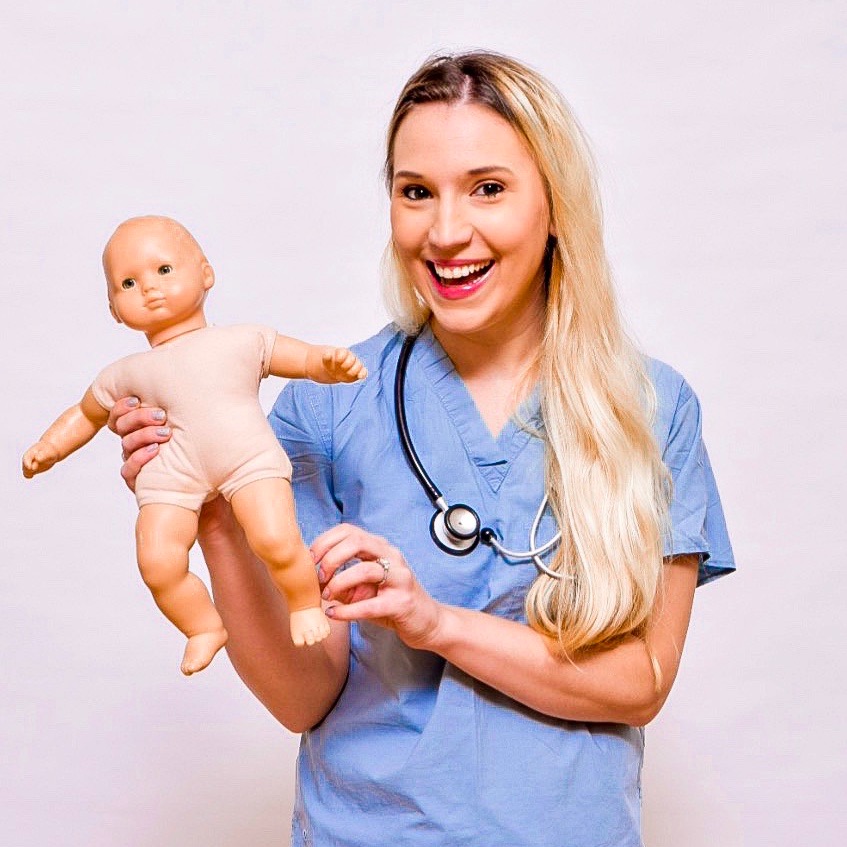 Hi! My name is Liesel and I am a labor and delivery nurse and mom to a sweet little boy! I'm also @mommy.labornurse on Instagram! I've been practicing as an L&D nurse for 6 years, and I've helped hundreds, if not THOUSANDS of women through their births! :)
Course Curriculum
Section 1: WELCOME!
Available in days
days after you enroll
Section 2: MY STORY
Available in days
days after you enroll
Section 3: RESEARCH AND PREP
Available in days
days after you enroll
Frequently Asked Questions
When does the course start and finish?
The course starts now and never ends! It is a completely self-paced online course - you decide when you start and when you finish.
How long do I have access to the course?
How does lifetime access sound? After enrolling, you have unlimited access to this course for as long as you like - across any and all devices you own. That means if you enroll NOW at whatever gestation you are, you can access this course at any point during your pregnancy for a refresher! ALSO, you can access it AGAIN for any future births you may have!
What if I am unhappy with the course?
I never ever want you to be unhappy! If you are unsatisfied with your purchase, contact me within the first 30 days after your purchase, and I will give you a full refund! I just ask that you completely go through the course before asking for one, that's all!