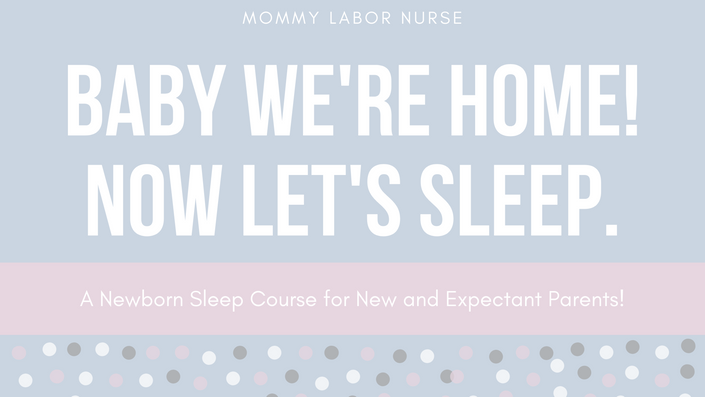 Baby, We're Home! Now Let's Sleep.
A newborn sleep course for new & expectant parents!
Enroll in Course
Hi! I'm Liesel!
I'm a labor and delivery nurse & also a mom! I STRUGGLED HARD with the newborn period. I totally prepped myself for birth, but did I prep myself for the newborn period?
uhhhh.....nope!
I STRUGGLED but I want to teach you how NOT to struggle!
Watch this 3 minute video to learn how you can discover EVERYTHING you need to know about ROCKING that newborn period LIKE A BOSS!
Why Should You Take A Newborn Sleep Course?
Great Question! :)
When I was a brand new mom, I was an anxious mess, & I really really struggled to wrap my head around newborn sleep. It totally hit me like a ton of bricks!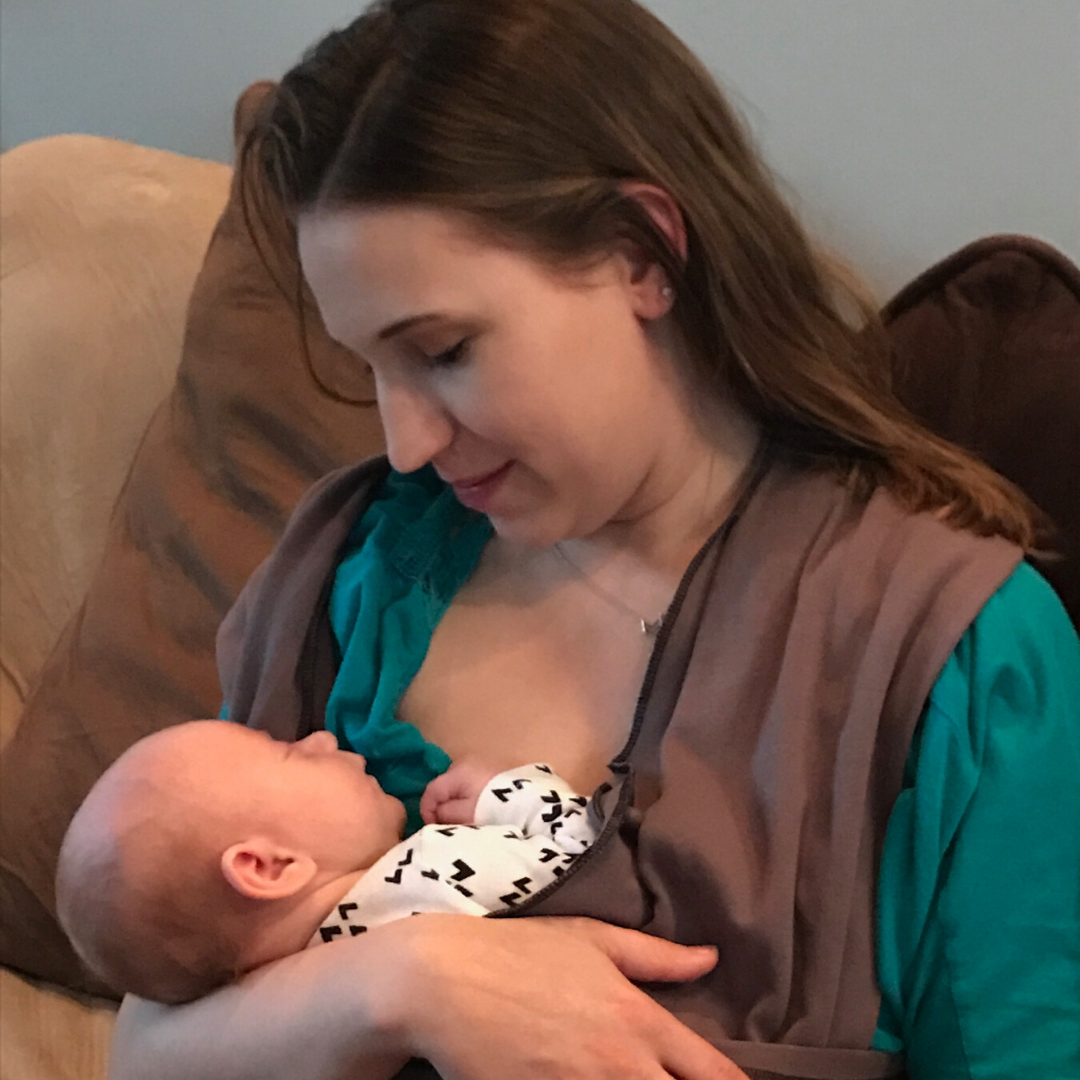 I was NOT prepared to wake up every 2-3 hours to feed & care for my newborn....and FORGET about healthy sleep...I was just trying to keep my head above water!
I didn't read ANY literature, watch any videos, or take any classes to help prepare myself & my husband for this time period.
We survived though....EVENTUALLY I started to do some research, and really understand what was going on with my baby, when he was telling me he was tired, and what to do with it.
We got through it, and now he is a PRETTY healthy sleeper as a result! :)
BUT....I totally wish I could have gone back and learned this information PRE-baby...or MID-baby.
I didn't start to learn & implement healthy sleep techniques until my babe was 3-4 months old (which is totally 100% ok if that's where you're at!!).
MAN, I wish I could totally go back and learn all of this stuff BEFORE he was born. I would have had MUCH less anxiety.
I totally would have felt like I had more control of my situation, AND gotten to actually understand my baby & what he was trying to tell me!
So, that's essentially why I think this class is perfect for you! I want to prepare you for what's to come, and save you from those anxious, out-of-control moments I had as a new mom!
But guess what guys....I'm a labor and delivery nurse! I know NOTHING about teaching people how to get their babies to sleep!
BUT, my partner Andrea DOES!
She's your instructor in this course!
👇

Your Instructor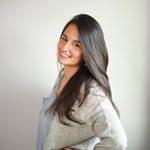 Hi! I'm Andrea and I love sleep! When my first teeny tiny son was born, he took my sleep!
I found myself in a new world of anxiety as I did everything I could to ensure his wellbeing. New motherhood was scary, and I started to be someone I didn't recognize as we struggled with sleep deprivation. My mood was constantly low and I worried I was slowly falling deeper into PPD and PPA with every passing sleepless morning. So I decided to do something about it.
I started researching. I read every book and article I could find about baby sleep. I spent countless hours perusing sleep philosophies and successful programs... until finally, I realized it was more than just an interest. I realized that Baby Sleep Science FASCINATES me.
As I successfully navigated through my baby's new milestones and sleep regressions, always working to get him the best possible sleep, I realized I wanted to help other families do the same!
There are priceless benefits for a baby that gets quality, restful sleep, and I want to help as many babies get that.
So, I sought out and completed my Sleep Consultant Certification and started reaching out to families. Although running a business and marketing myself is not my favorite thing, happy, sleeping families ARE my favorite thing, so I could not be in a better place!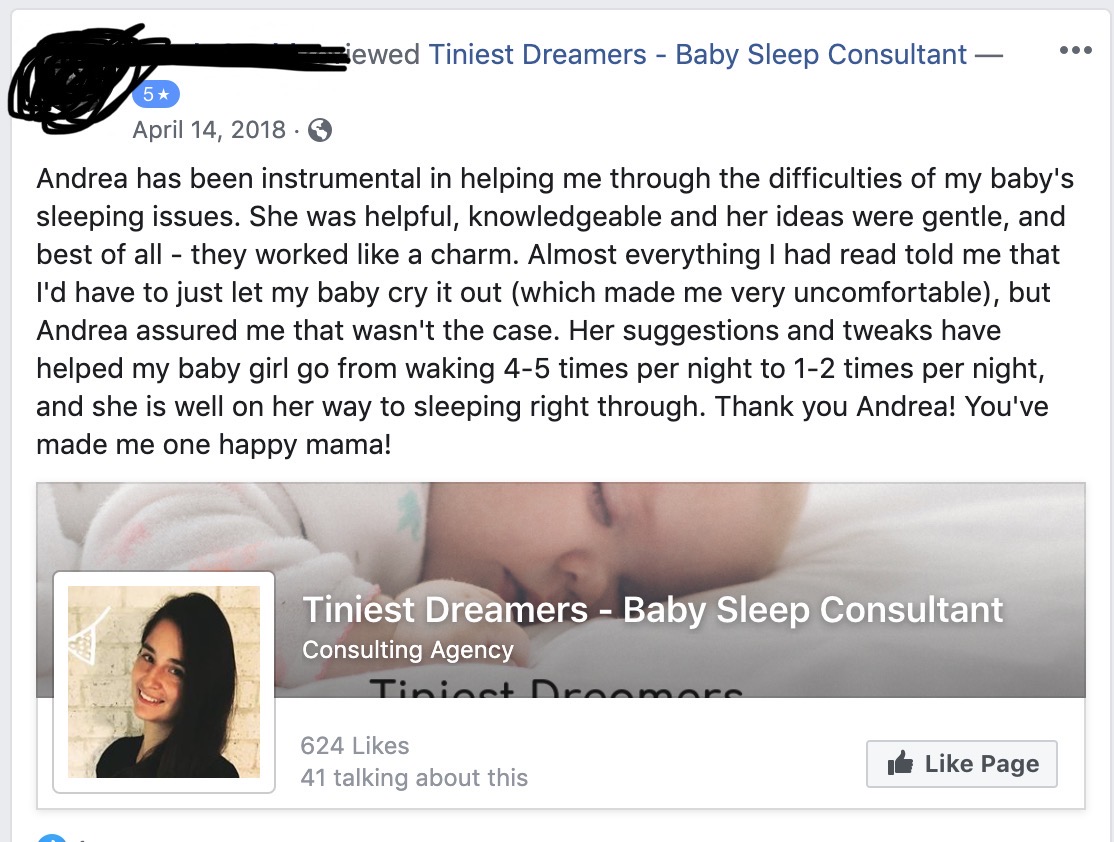 "I really enjoyed this course! My first-born was such a great sleeper that I assumed I was ready for baby #2. Not at all! He has been a much more difficult case.
I love that the course gave practical advice along with the explanations for why babies act the way they do. I started trying some of the tips and was shocked at how quickly it helped. Since making the recommended changes, my baby is only waking once at night (5 weeks old), which is a HUGE improvement.
I am going to keep working with him though... I think we could have a full night's sleep soon!! Thank you Andrea and Liesel!!"
-Natalie, Mom of 2
Your purchase also includes a 27 page PDF guide of the entire course!
*Yours to keep forever and print out as many times as you'd like!*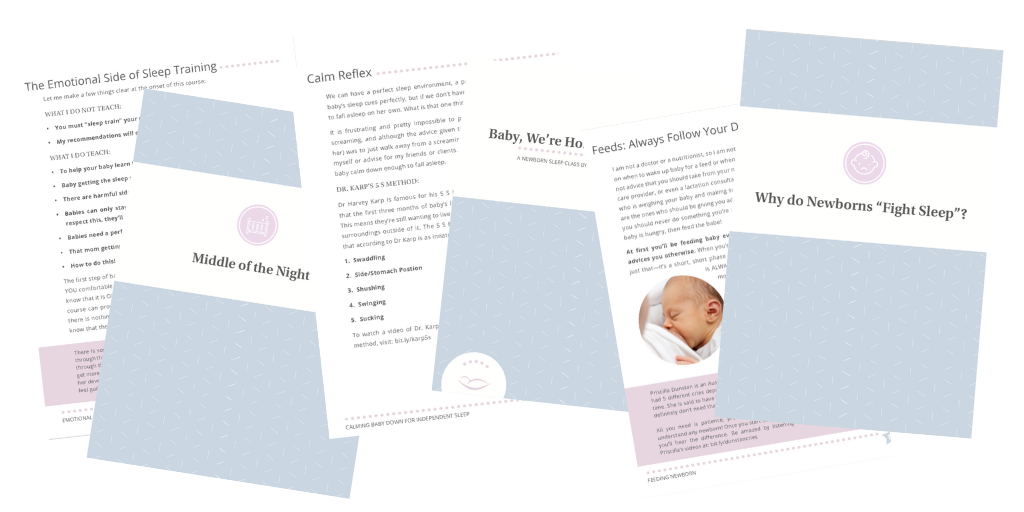 Who Is This Course For?
Baby, We're Home! Now Let's Sleep. is for expecting & new parents who are looking to gain insight on the newborn period, and set the best foundation possible when it comes to getting sleep!
What Will You Accomplish During This Course?
First, Andrea is going to educate you about what newborn sleep looks like. She's going to tell you the ins & outs, what healthy sleep looks like & WHY newborns do what they do.
Next, she's going to demonstrate to you tangible actions you can take RIGHT NOW with your baby, giving you the tools you need for healthy sleep!
Lastly, she's going troubleshoot. Not all babies sleep the same, and she addresses some of the most common issues MANY parents face!
After completing this course, you're going to leave feeling empowered, secure & prepared for newborn sleep! "My current newborn is my 3rd kid, so my life is hectic and we aren't very good at routines. Coupled with a recent stay in the ICU for RSV, my little girl got used to nursing to sleep and sleeping in my arms.
I went through this course yesterday, and today my 2.5 month old has napped twice in her own bed within 10 minutes of putting her down!
I used the 5 S's method and the crib side interventions mentioned in the course and it worked unbelievably well! The only problem now is that I have no excuse as to why I didn't get anything done while she naps. 😂
As a third time mom, I knew some of these techniques in practice but didn't know any of the research behind them. The videos made it easy to see what I should be doing and having set steps really made a difference.
I went from limping through a version of this on my own (and a newborn only falling asleep while nursing or in my arms) to a happy little girl sleeping in her own bed!"
- Christi, Mom of 3
Course Curriculum
SECTION 1: Welcome!
Available in days
days after you enroll
SECTION 2: Are You Emotionally Ready?
Available in days
days after you enroll
SECTION 3: The Perfect Safe Sleep Environment
Available in days
days after you enroll "As first time parents, my husband and I thought we were prepared to bring home our baby girl. The beginning was easy-ish. She would eat and sleep, of course it was hard on me feeding every 2 hours, but we survived that phase.
As the weeks went on, her eating and sleeping patterns changed. Some nights were good, but some nights were extremely rough.
Thankfully, I was able to take this course! It was easy to follow and it explained so much.
As we went through the course, my husband and I learned so much and have been able to apply what we learned to help get our little one to sleep! The course made us feel like we weren't the only parents going through sleep issues with our baby.
We would definitely recommend this course to parents struggling with getting their newborn to sleep! Thank you Liesel and Andrea for putting this course together!!"
- Vanessa H, Daughter is 2 months old

Frequently Asked Questions
When does the course start and finish?
The course starts now and never ends! It is a completely self-paced online course - you decide when you start and when you finish.! :)
How long do I have access to the course?
FOREVER AND EVER! After enrolling, you have unlimited access to this course for as long as you like - across any and all devices you own!
What if I am unhappy with the course?
We would never want you to be unhappy! If you are unsatisfied with your purchase, contact us in the first 30 days and we will give you a full refund, we just ask that you complete the entire course first! :)
Which age range is this course for?
This course is most applicable for babies 0-3 months. But, that doesn't mean your baby will just STOP sleeping after 3 months of age. MANY moms have found that these techniques HAVE worked with older babies because they've laid the foundation for good, healthy sleep! BUT, if your baby is already older than 3 months, we only recommend this course for newborns at this time! (Be on the lookout for additional resources for older babies, though! That's our next endeavor!)
Should I take this course when I am pregnant...or after I have my baby?
Ideally both! In a perfect scenario, we do recommend taking this course BEFORE baby comes, so you are prepared for what to expect, and not trying to learn about baby sleep after you've deemed that it's a problem! This is what MOST moms do when they are seeking sleep help (aka, what BOTH Andrea and I did!). We want you to take this course while you're pregnant so you get a good foundation! BUUUUT if you already have a newborn at home, this course can totally help you get more sleep, and be less frustrated about it, too! This is when MOST moms do take this course and see results! :) Additionally, you have access to this course FOREVER (cool, right?), so you could take it while you are pregnant, and then take it again once your baby comes for a refresher!